The JOREK Code
The non-linear extended MHD code JOREK resolves realistic toroidal X-point geometries with a C1 continuous flux-surface aligned grid including main plasma, scrape-off layer and divertor region. It is based on robust fully implicit numerics, and includes divertor boundary conditions, 3D resistive wall effects, two-fluid effects and neoclassical flows.
The well established physics and numerics community around JOREK has strong connections to the relevant experiments, ITER Organization and the respective ITPA Topical Groups.
This page briefly describes key physics applications, physics models, numerics methods and contains lists of selected references, team members, and science institutes involved in this work.
Key Physics Applications

Edge Localized Modes (ELMs) including pellet ELM triggering, ELM mitigation and suppression via RMP fields, vertical kick ELM triggering, QH-Mode, impurity transport
Disruptions including massive gas injection, shattered pellets, vertical displacement events (VDEs), runaway electrons, tearing mode seeding and suppression
Physics Models
Reduced and full MHD models

Two-fluid and neoclassical effects

Divertor model

Neutrals model

Pellet ablation model

Free boundary / resistive wall model

Full orbit and guiding center particle models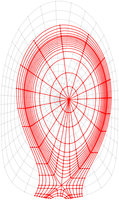 Numerics
Flux-aligned 2D Bezier finite elements

Toroidal Fourier expansion

Fully implicit time stepping

GMRES and Newton iterations

Physics based preconditioning

Taylor-Galerkin stabilization

MPI + OpenMP parallelization
Main References for the JOREK Code
MHD stability in X-point geometry: simulation of ELMs

NF 47, 659 (2007)

Bézier surfaces and finite elements for MHD simulations

JCP 227, 7423 (2008)
Selected Publications
Thesis
(not a complete list)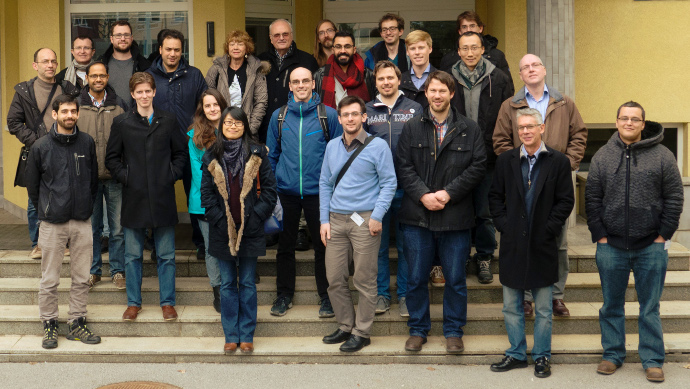 The Present JOREK Team (alphabetical)
Artola Such Javier

Atanasiu Calin

Becoulet Marina

Estibals Elise

Franck Emmanuel (website)

Futatani Shimpei

Guillard Herve

Hindenlang Florian

Hoelzl Matthias (website)
Huijsmans Guido (website)

Hu Di

Iaagoubi Ayoub

Kanjanaput Wittawat

Latu Guillaume (website)

Lessig Alexander

Liu Feng

Meshcheriakov Dmytro

Mochalskyy Serhiy

Morales Jorge

Nardon Eric

Nkonga Boniface

Orain Francois

Pamela Stanislas

Passeron Chantal

Pautasso Gabriella

Pratt Jane (website)
Ratnani Ahmed (website)

Sangam Afeintou

Sommariva Cristian

Sonnendruecker Eric (website)

van Vugt Daan

Westerhof Egbert
Involved Institutes (alphabetical)
Barcelona Supercomputing Center, Department of Computer Applications in Science and Engineering (CASE), 08034 Barcelona, Spain

CCFE, Culham Science Centre, Abingdon, Oxon, OX14 3DB, UK

CEA, IRFM, F-13108 St. Paul-lez-Durance cedex, France

Eindhoven University of Technology, The Netherlands

DIFFER - Dutch Institute for Fundamental Energy Research, Eindhoven, the Netherlands

INRIA Nancy - Grand Est & IRMA - Institut de Recherche Mathématique Avancée, Strasbourg, France

INRIA Sophia Antipolis - Méditerranée & Université de Nice-Sophia Antipolis, France

Institute of Plasma Physics ASCR, 182 00 Prague 8, Czech Republic

ITER Organization, Route de Vinon sur Verdon, 13115 Saint Paul Lez Durance, France

Max Planck Institute for Plasma Physics, Boltzmannstr. 2, 85748 Garching b. M., Germany

National Institute for Laser, Plasma and Radiation Physics, Atomistilor 409, 077125 Magurele, Bucharest, Romania

(not yet complete)
Acknowledgements
Some of this work has been carried out within the framework of the EUROfusion Consortium and has received funding from the Euratom research and training programme 2014-2018 under grant agreement No 633053. The views and opinions expressed herein do not necessarily reflect those of the European Commission.
Some of this work was done by ITER Organization or in collaboration with it. The opinions expressed herein do not necessarily reflect those of the ITER Organization.
Some of this work was carried out using the following supercomputers: Marconi-Fusion (Italy), IFERC-CSC HELIOS (Amori, Japan), Hydra (Garching, Germany), Idris (CNRS-France), Curie-Prace (France), Archer (UK), Jade-Cines (France), HPC-FF (Jülich, Germany).